Ministry of Petroleum & Natural Gas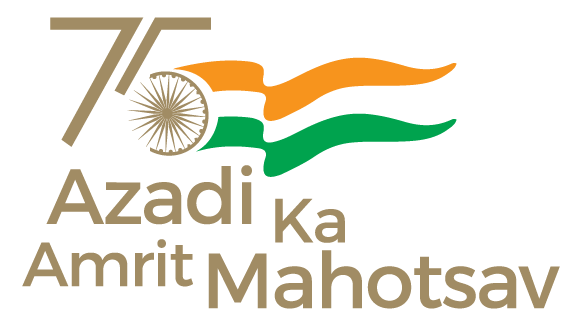 *PIB Press release *
The nation looks toward ONGC for making the most of the facilitative policy environment that the Government is providing and leading India's E&P charge: Union Petroleum and Natural Gas Minister



"Government of India intends to increase India's exploration acreage to 0.5 million sq. km. by 2025 and 1.0 million sq. km. by 2030"



"25% of the global energy growth between 2020 and 2040 is going to come from India"


Posted On: 28 JAN 2023 6:11PM by PIB Mumbai

: Mumbai, January 28, 2023
Union Minister of Petroleum and Natural Gas and Minister for Housing and Urban Development Shri Hardeep Singh Puri rededicated Oil and Natural Gas Corporation's (ONGC) iconic drilling rig Sagar Samrat, as a Mobile Offshore Production Unit (MOPU) today (January 28, 2023) at a ceremony held on Sagar Samrat which is located 140-145 kilometres west of Mumbai. The Minister later visited ONGC Kendriya Vidyalaya Grounds, Panvel Phase 1 to meet the Energy Soldiers of ONGC and their families.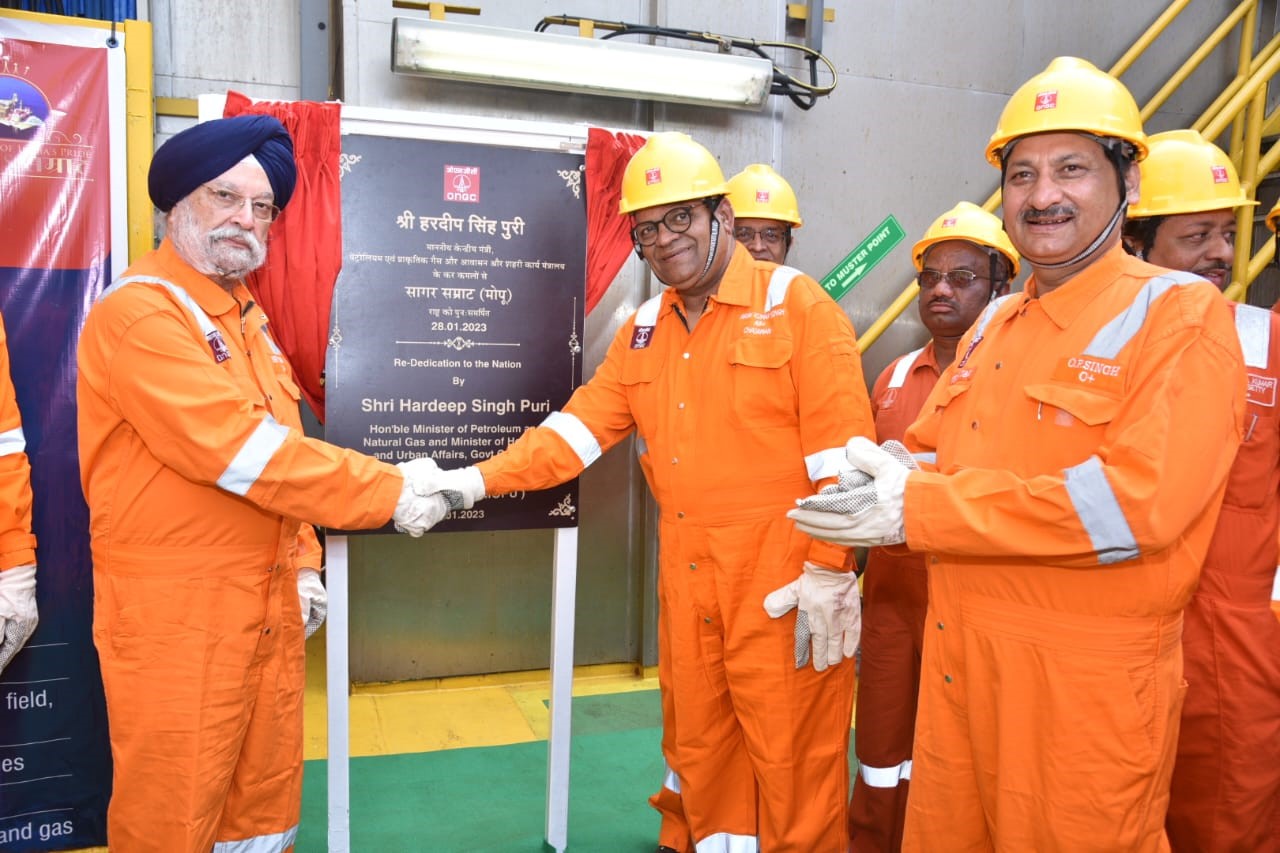 The Minister met the ONGC employees who manned the Sagar Samrat as a drilling rig and also the team which worked on converting it to a MOPU. He motivated the crew of Sagar Samrat, whom he called 'Energy Soldiers of the Nation' to continue their efforts for India's energy security. The Minister highlighted how Sagar Samrat is a testimony of India's vision of producing its own oil when it was globally labelled as "barren" in terms of hydrocarbon exploration. The Minister stated that in harnessing India's most prominent and prolific oilfield, ONGC has consistently committed itself to the pursuit of knowledge, continual excellence and the willingness to evolve technologically. "The legacy of Sagar Samrat also honors the memories of the martyred officers who laid down their lives for ONGC and more importantly for India's energy security", said the Union Minister. He felicitated the crew of Sagar Samrat and families of the chopper incident on the occasion.
Speaking on the occasion, Union Petroleum and Natural Gas Minister said, re-coronation of Sagar Samrat is a testament to the courage and willingness to make a difference in the face of uncertainties and the tumultuous forces of nature through re-alignment and innovation. He said that ONGC is not only India's premier National Oil Company but also one of India Inc's marquee corporate entities. Stating this, he expressed confidence about ONGC re-inventing itself for India's new hopes and expectations from its no. 1 NOC. He further said that, as India's top NOC, the nation looks toward ONGC for making the most of the facilitative policy environment that the Government is providing and leading India's E&P charge.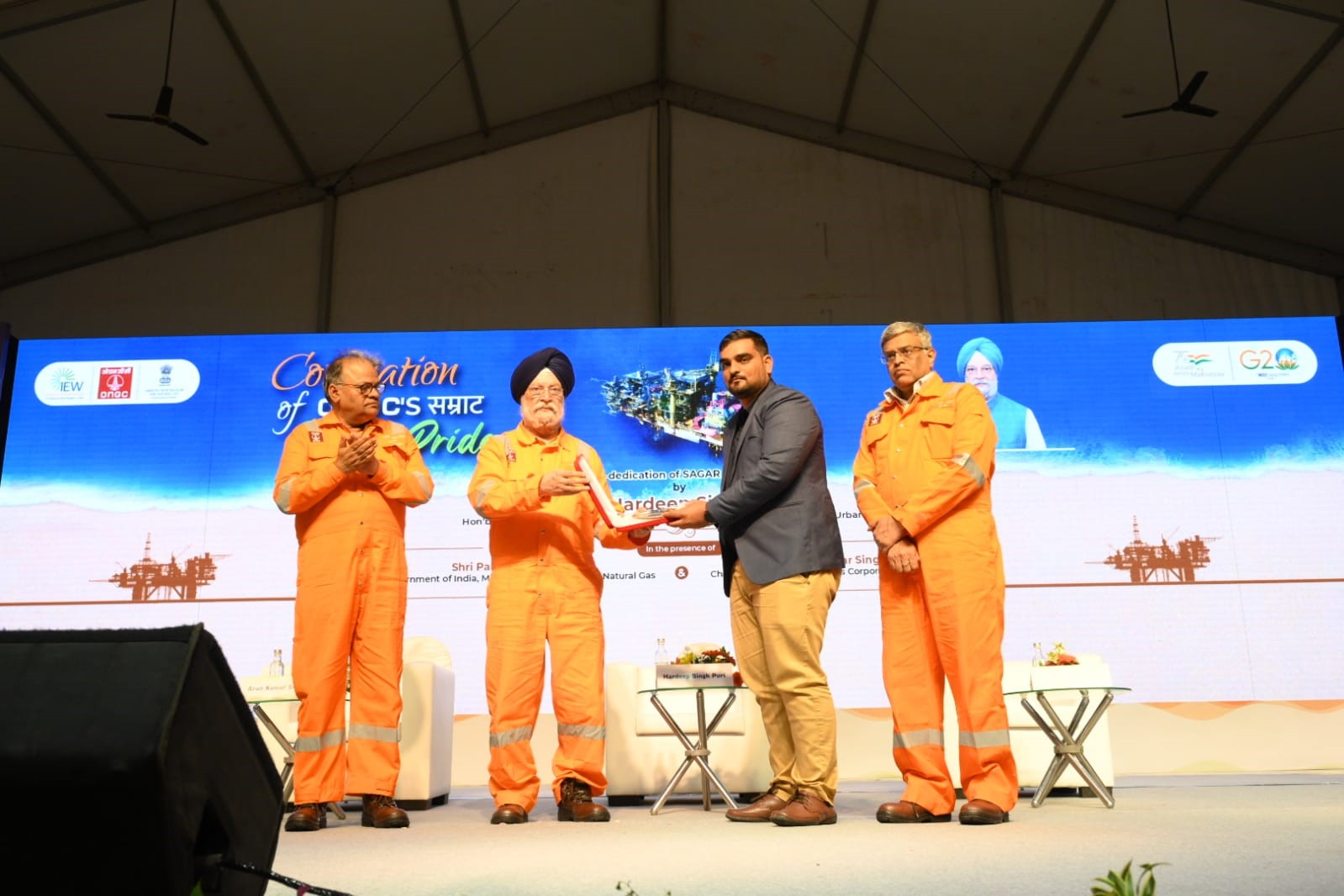 Stating this, the Union Petroleum and Natural Gas Minister urged that there is a need to introduce new Key Performance Indicators (KPIs) in the organization which are geared towards time-bound deliverables and efficiency. These KPIs need to focus on three important goals. ONGC possess a large sedimentary basin acreage, which will go up even further in the coming days. It is imperative that the organisation make extra efforts to convert it's 'Yet to find' acreage into Discovery fields, Discovery fields into Production assets and Production assets into Maximum Production assets. Teams across ONGC which are engaged in different processes of the three phases must re-orient themselves for accelerated achievements of these targets, he said. The Union Minister further said that all efforts should be made to make the organization agile, expedient and efficient. He urged that it is also crucial for ONGC, which has made a strong profit this FY, to investment much greater resources into R&D and Exploration activities.
Government of India intends to increase India's exploration acreage to 0.5 million sq. km. by 2025 and 1.0 million sq. km. by 2030, stated the Union Minister. He also said that the Government has been successful in reducing the 'No Go' area by 99%, thereby making available an additional approx. 1 million Sq.km. of India's EEZ for exploration. Several MNCs like Chevron, ExxonMobil, and Total Energies are showing keen interest to invest in the Indian E&P segment, and some are already in talks with ONGC for firming up mutually beneficial partnerships.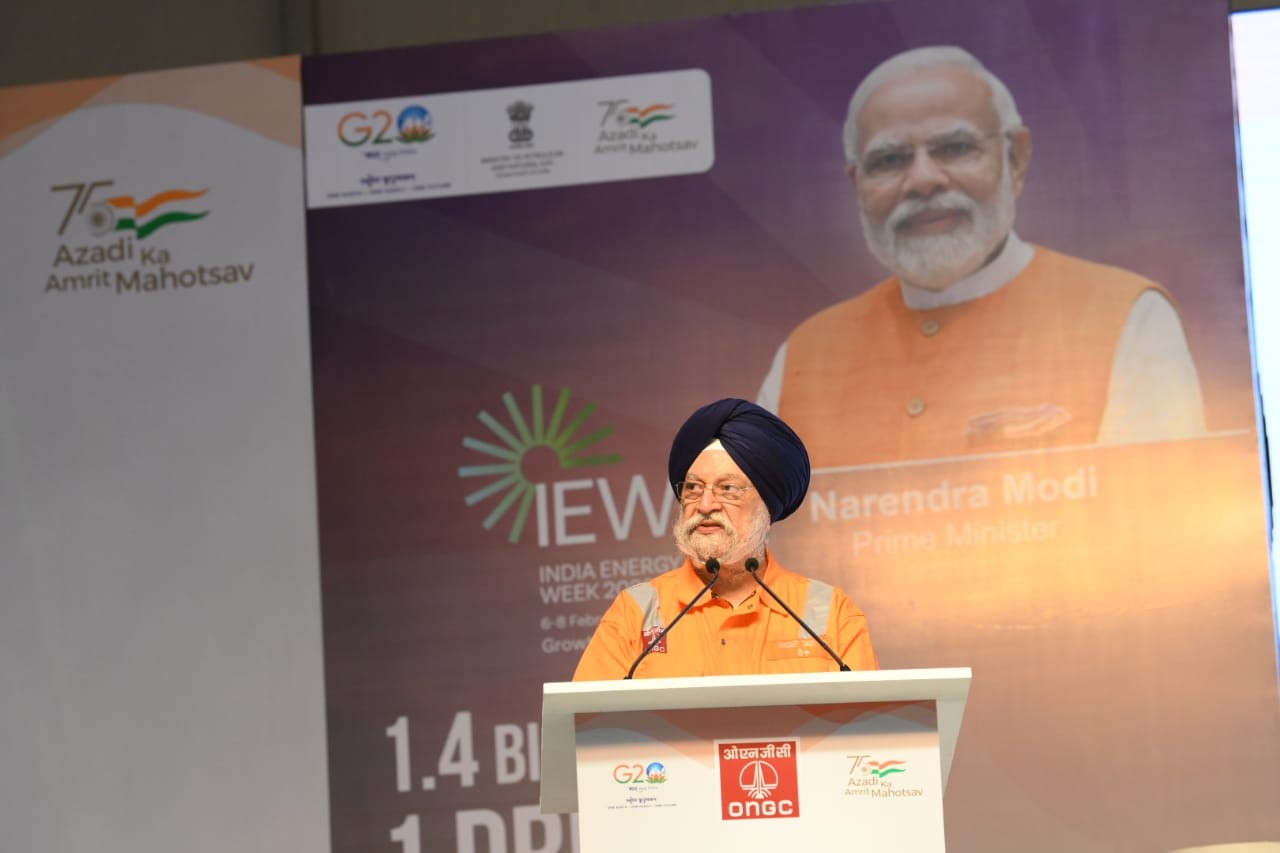 Shri Hardeep Singh Puri said that India is the world's fastest-growing large economy and the world's 3rd largest consumer of energy, 3rd largest consumer of crude oil, 4th largest refiner, 6th largest importer of petroleum products, and 7th largest exporter of petroleum products as on date. India's energy demand is expected to grow at about 3% per annum by 2040, compared to the global rate of 1%. Further, 25% of the global energy growth between 2020 and 2040 is going to come from India due to our fast-growing economy and demographic dividend. However, India imports 85% of its petroleum requirements and spent approx. $120 Billion in FY 2021-22 on the import of petroleum products. Stating this, the Union Minister said, India's Amrit Kaal cannot be realized without achieving energy Independence by 2047.
Speaking about the multiple steps taken by Government of India to ensure that our future generations enjoy energy security, the Union Minister highlighted policy reforms like Production Sharing Contract (PSC) regime, Discovered Small Field Policy, the Hydrocarbon Exploration and Licensing Policy, the Setting up of a National Data Repository, etc. The government has also provided functional freedom to NOCs like ONGC and wider private sector participation by streamlining approval processes including an electronic single window mechanism, he further said.
The Union Minister also invited all stakeholders to the upcoming India Energy Week being held from 6th to 8th February 2023 at the Bangalore International Exhibition Center (BIEC), Bengaluru, where ONGC will be one of the main draws.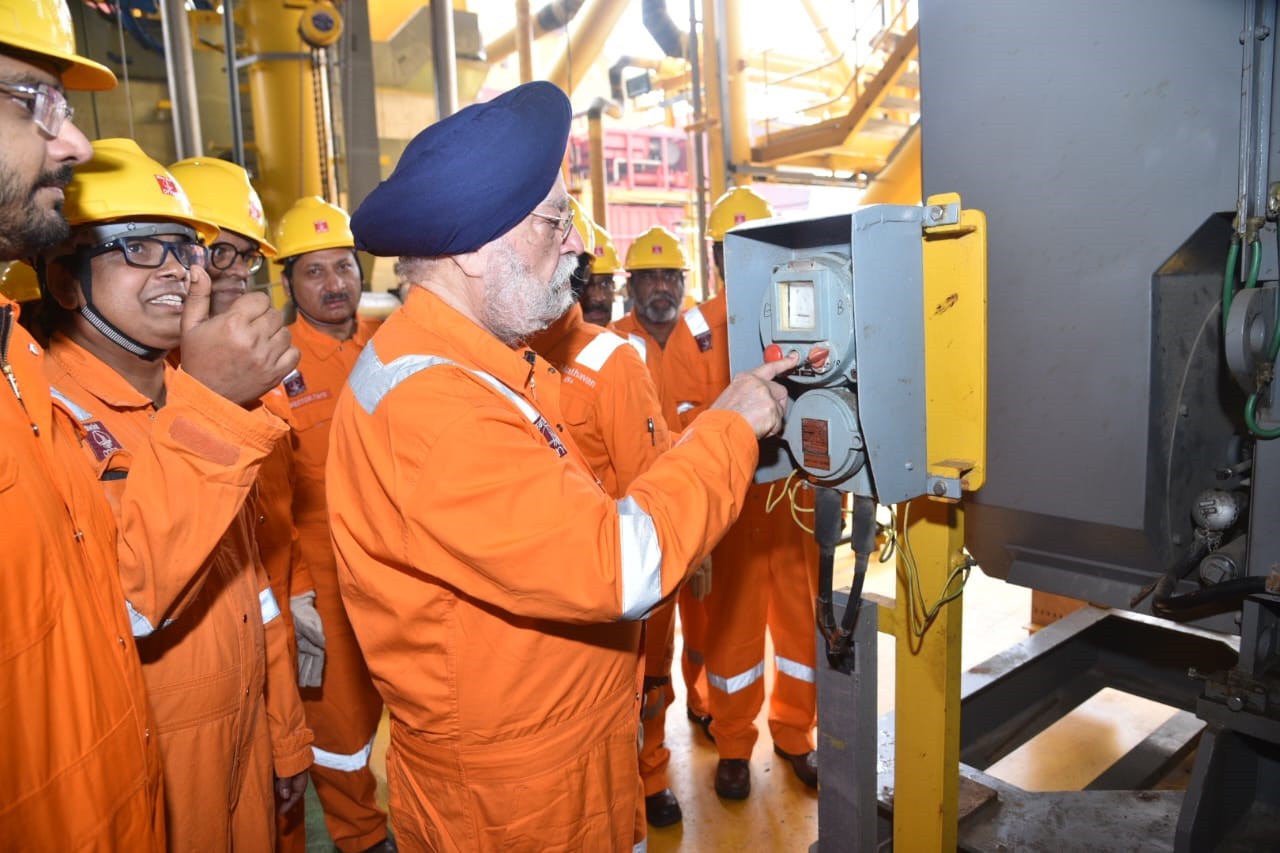 About Sagar Samrat MOPU:
Commissioned in 1973, Sagar Samrat was built at the Mitsubishi yard in Japan and set sail from Hiroshima on 3 April 1973. It drilled ONGC's first Offshore well in 1974 in Mumbai Offshore region of Arabian Sea, then called the Bombay High. Sagar Samrat turned tides of India's oil fortune by putting it on the global oil map. In 32 years, Sagar Samrat has drilled almost 125 wells and has been involved with 14 key offshore oil and gas discoveries in India. Initially a jack-up drilling rig, Sagar Samrat has now been converted into a Mobile Offshore Production Unit (MOPU). The British engineering and consulting conglomerate Wood Group's Mustang unit based in Texas carried out the front-end engineering and design for the vessel's conversion.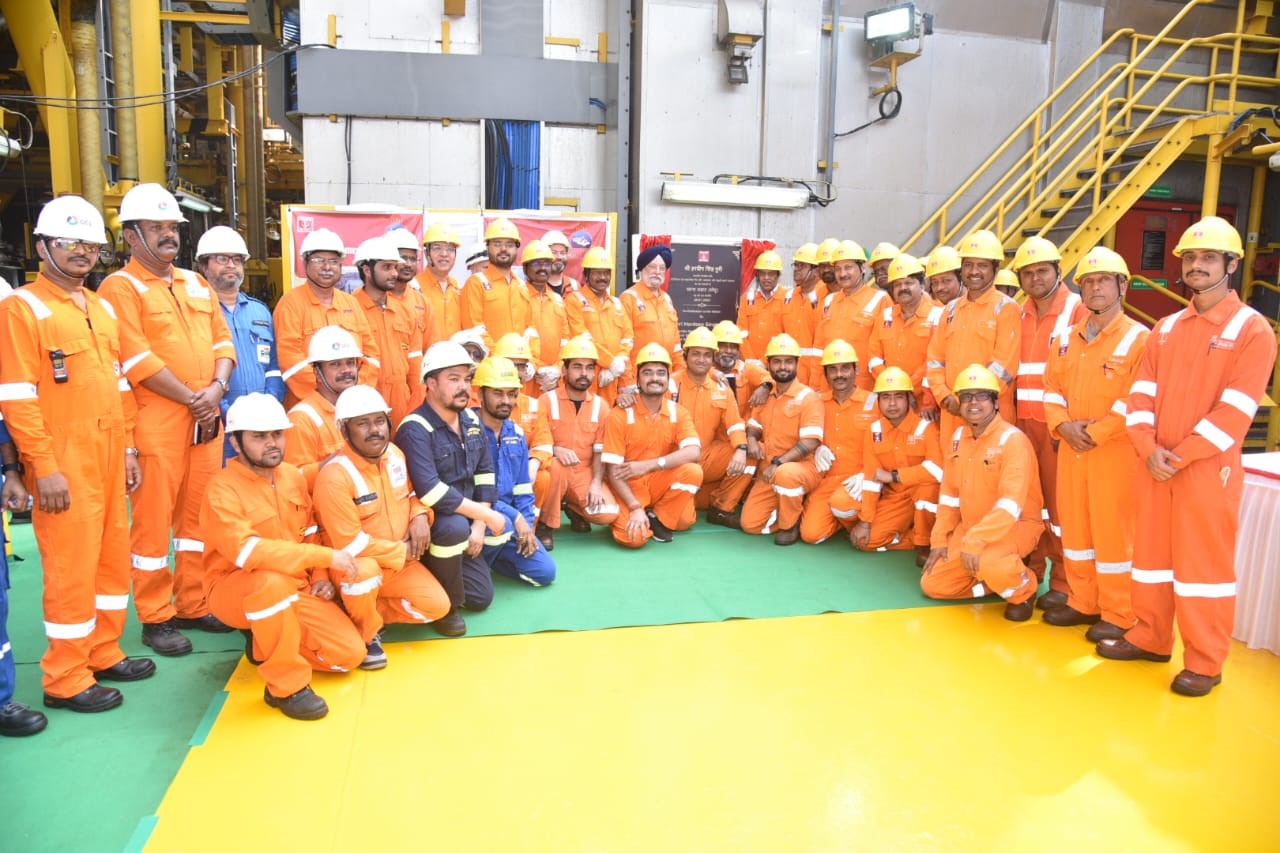 MOPU Sagar Samrat commenced production on 23 December 2022. The vessel is presently deployed at Western Offshore (WO)-16 field, located 140-145 kilometres west of Mumbai. Located adjacent to the ONGC's existing WO-16 well head platform (WHP) in 76m of water depth, the vessel will be instrumental in producing from marginal fields in WO cluster thereby augmenting production from Western Offshore. The MOPU is designed to handle 20,000 barrels per day of crude oil and has a maximum export gas capacity of 2.36 million cubic meters per day.
The Chairman of ONGC Arun Kumar Singh and Petroleum Secretary Pankaj Jain were also present on the occasion.
***
SVS/M/Sriyanka/Parshuram
Follow us on social media:
@PIBMumbai
/PIBMumbai
/pibmumbai
pibmumbai[at]gmail[dot]com