Become entrepreneurs by taking benefit of National SC ST Hub and other government schemes: MSME Minister Narayan Rane exhorts members of SC and ST communities

"MSME Ministry is working with the aim of complete eradication of unemployment and poverty from the country, everyone should cooperate in this mission"
Posted On: 23 JAN 2023 3:34PM by PIB Mumbai
Mumbai, 23 January 2023
A National SC-ST Hub Conclave is being held in Mumbai today, 23rd January, 2023. The day-long national conclave is being organized by the Union Ministry of Micro Small and Medium Enterprises, at World Trade Centre, Cuffe Parade, Mumbai, to promote the culture of entrepreneurship among members of the Scheduled Caste and Scheduled Tribe communities and to spread awareness of the National SC-ST Hub (NSSH) and other schemes of the MSME Ministry. The event has been inaugurated by the Union MSME Minister Narayan Rane.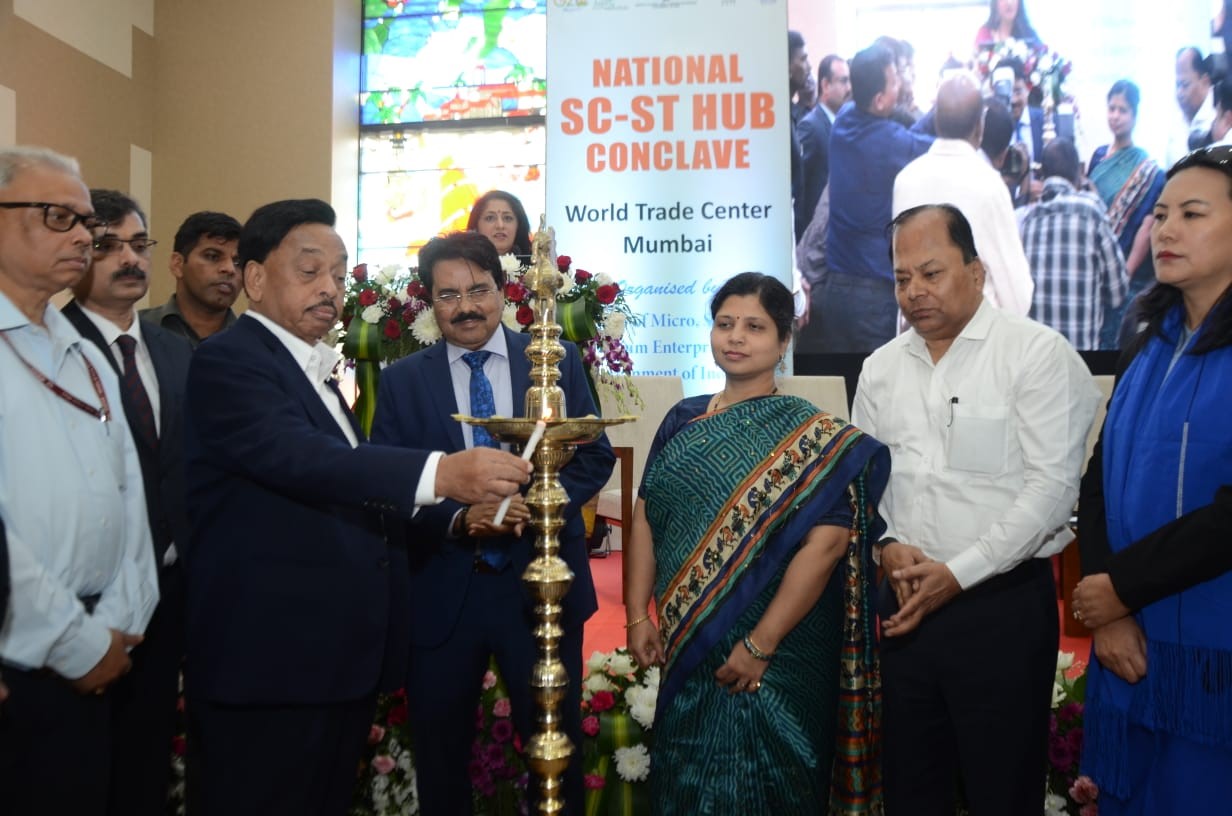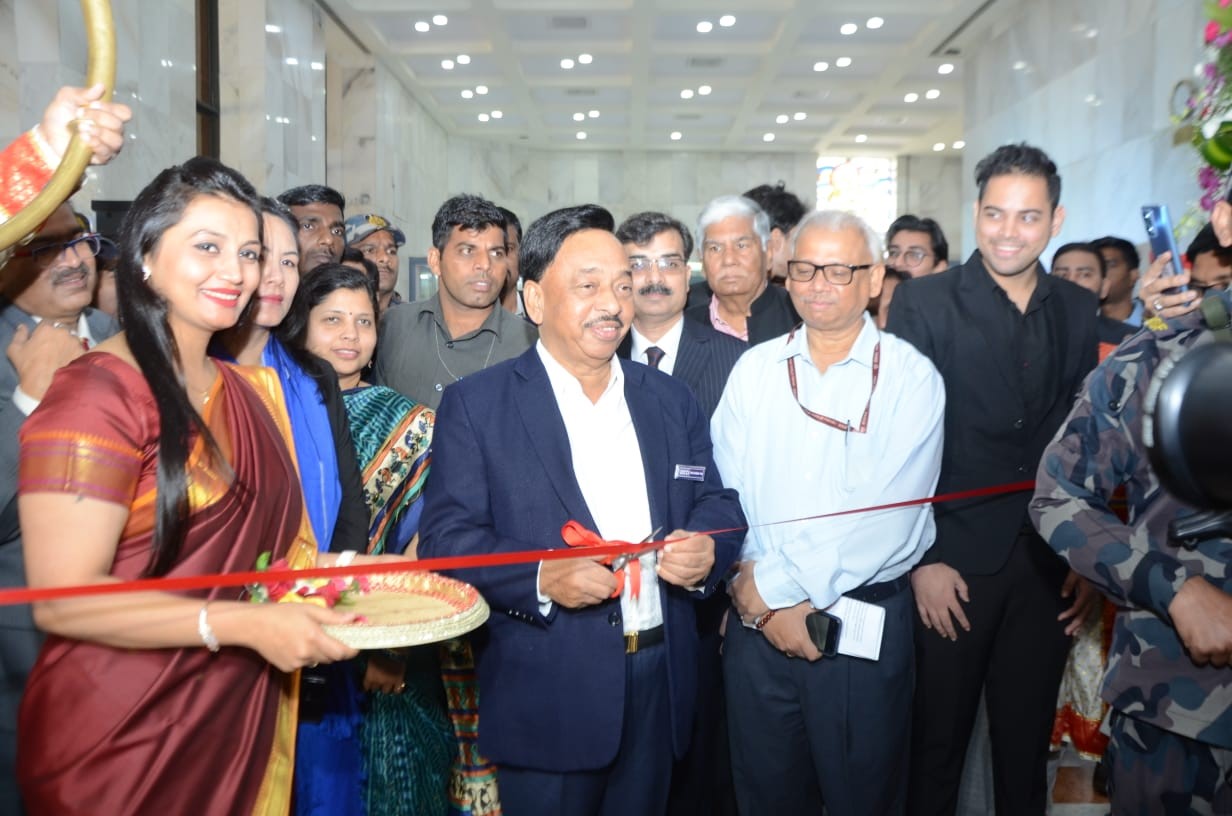 Addressing the inaugural session, the MSME Minister said that the government under the leadership of Prime Minister Narendra Modi has launched National SC ST Hub and various schemes under MSME Ministry to realize the dream of an Aatmnirbhar Bharat. These various schemes are being implemented for the purpose of employment generation, promotion of entrepreneurship, increasing GDP and boosting exports, he added.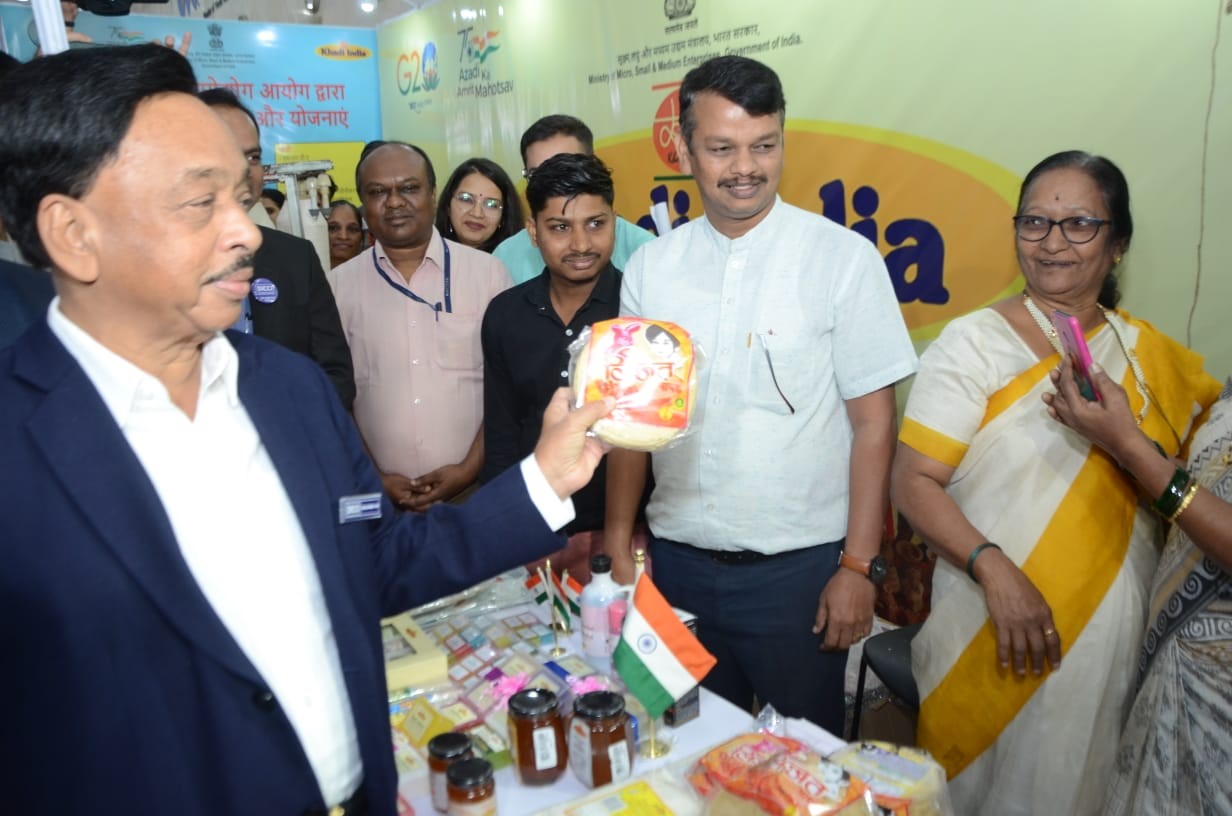 The Minister said that from being 10th largest economy in the world in 2014, India has now become the fifth largest economy in the world. The government wants to make India the third largest economy in the world by 2030 and for this the industry sector should cooperate, said the Minister.
The Minister observed that Maharashtra is at the forefront in industrial progress and spoke about the need to further increase the contribution of MSME sector. "MSMEs account for 30 percent of India's GDP and 50 percent of exports. Everyone should contribute to increase this further."
The Minister emphasized that the role of entrepreneur is very important in economic empowerment, employment generation and overall development of the country. More and more people should hence enter the industry and become entrepreneurs, he said. "If someone has any doubts or difficulties regarding starting the business, our MSME Ministry will provide all possible assistance to resolve them. Everyone should contribute to the work being done through our ministry to create entrepreneurs, create employment and increase the country's GDP. Our Ministry is working with the aim of complete eradication of unemployment and poverty from the country and everyone should cooperate in that work." The Minister urged people to become entrepreneurs by taking benefits of loan facilities and other concessions available under National SC ST Hub Scheme and other schemes of the MSME Ministry. The Minister said that it is not enough that we read Dr. Babasaheb Ambedkar's thoughts; they should also be implemented at all levels, in order to really take them forward.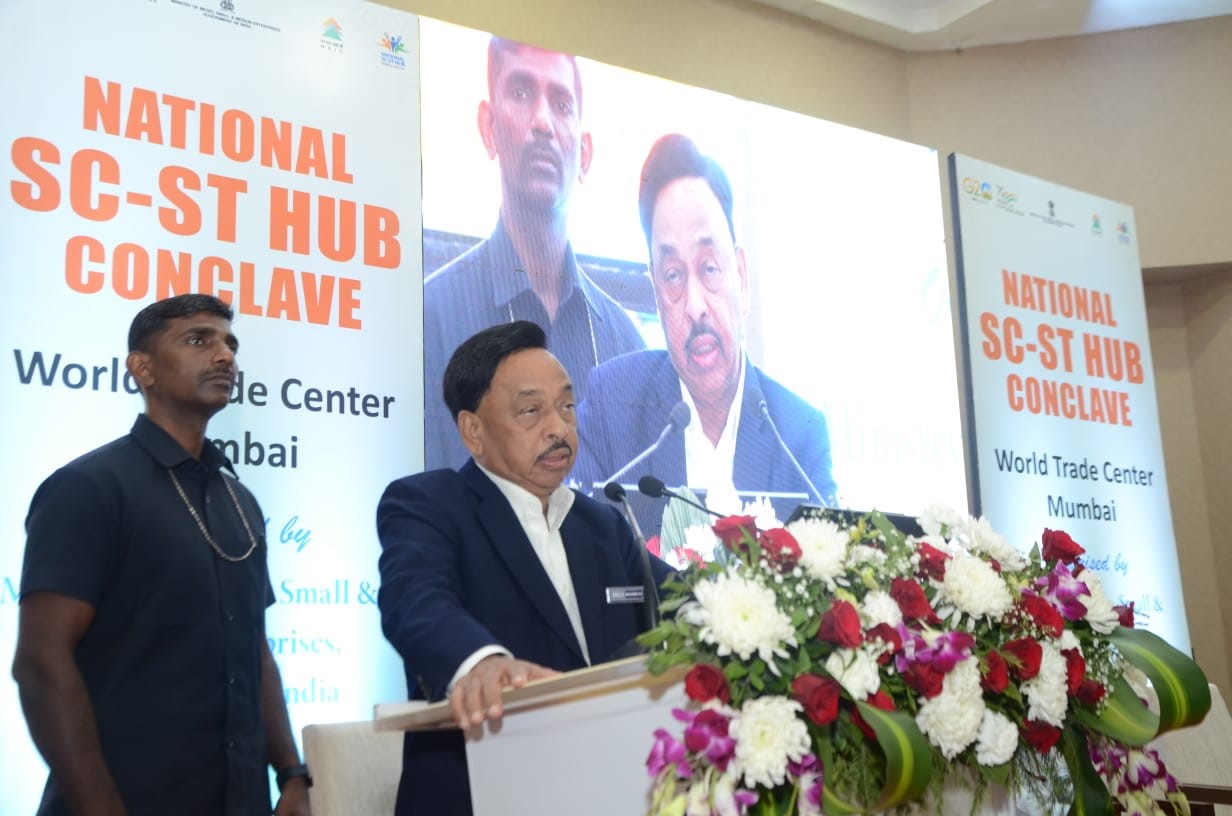 MSME Secretary B. B. Swain said that the MSME sector has emerged as a very vibrant sector of the Indian economy. The state of Maharashtra offers a strong ecosystem; more than 20% of registered MSMEs are from the state, observed the Secretary. For sustainable development, the sector needs to continually upgrade to become more competitive. The Ministry is developing new frameworks and innovative policies for promoting the sector. "We bank heavily on stakeholder consultation, we will be working very seriously on the suggestions given at the Conclave today", said the Secretary.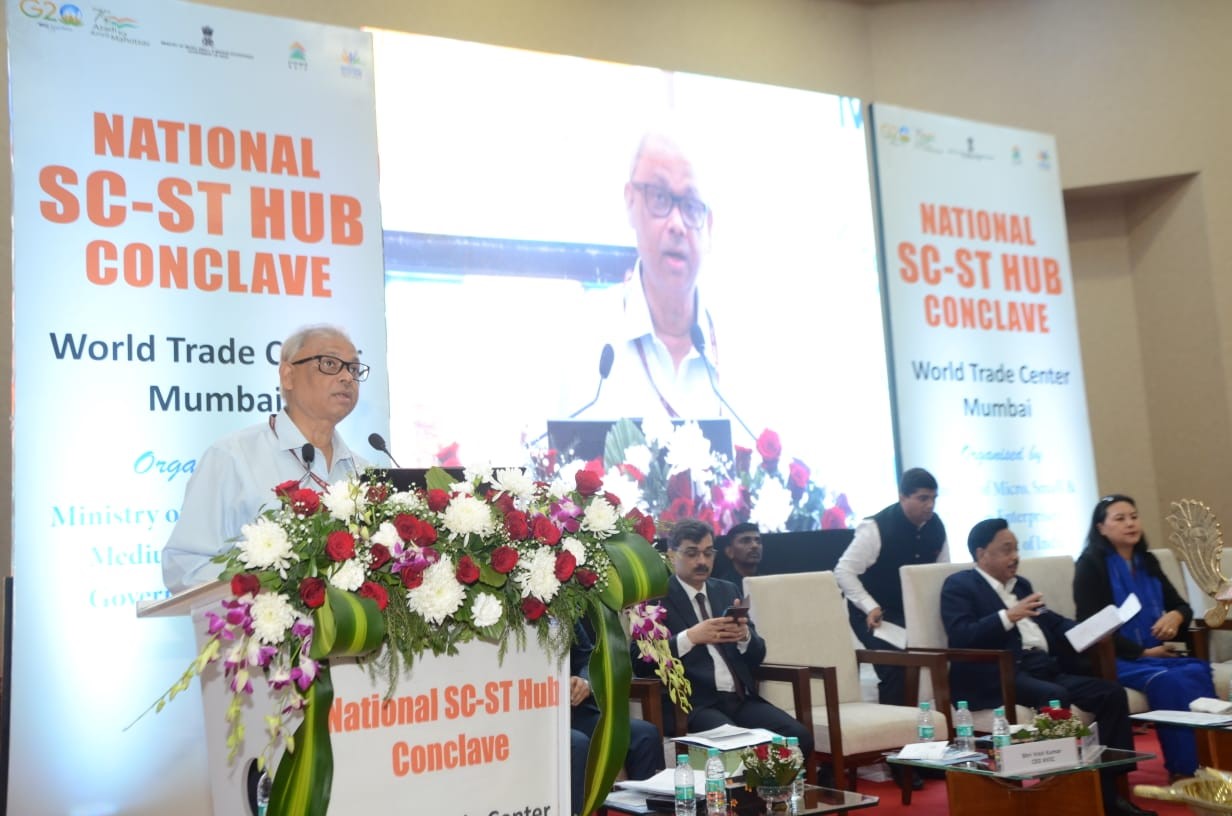 The Secretary spoke of National SC ST Hub and that the Conclave such as today's are being organized to take the benefits of various schemes for SC ST entrepreneurs to the last mile.
The main goal of the conclave is to help achieve the sub-target of 4% annual procurement from MSEs owned by SC/ST entrepreneurs, as part of Public Procurement Policy for Micro and Small Enterprises (MSEs). Thanks to various initiatives taken by the SC ST Hub over the years, the share of public procurement from SC/ST entrepreneurs has risen from Rs. 99.37 crores or 0.07% of public procurement in 2015-16 to Rs. 1,248.23 crores or 0.86% of public procurement in 2021-22.
The conclave provides an interactive platform to both aspiring and existing SC-ST entrepreneurs to interact with diverse stakeholders comprising Central Public Sector Enterprises, Industry Associations, lending institutions and concerned central and State government departments. Through the exchange of ideas and deliberation on challenges and opportunities, the SC-ST MSMEs are also expected to be able to expand their horizons by incorporating new ideas by becoming better aware of the various interventions being taken by the Government.
Many current and future SC-ST entrepreneurs from Mumbai and surrounding regions are participating in the event. The conclave aims to help them to better leverage the benefits offered under the SC ST Hub and other schemes and programmes of the Ministry of MSME.
Joint Secretary in MSME Ministry and CMD, NSIC, Mercy Epao said that the Ministry's goal is to assist MSME entrepreneurs and also contribute to the development of an ecosystem which enables MSME to become champions. She reiterated that the Ministry has reclassified the definition of Micro, Small and Medium enterprises. 45% of national manufacturing output comes from MSMEs, their GDP contribution being around 30%. The Joint Secretary gave a brief of various schemes of the Ministry spanning finance facilitation, skill development, technology enablement and other verticals, from which entrepreneurs can benefit.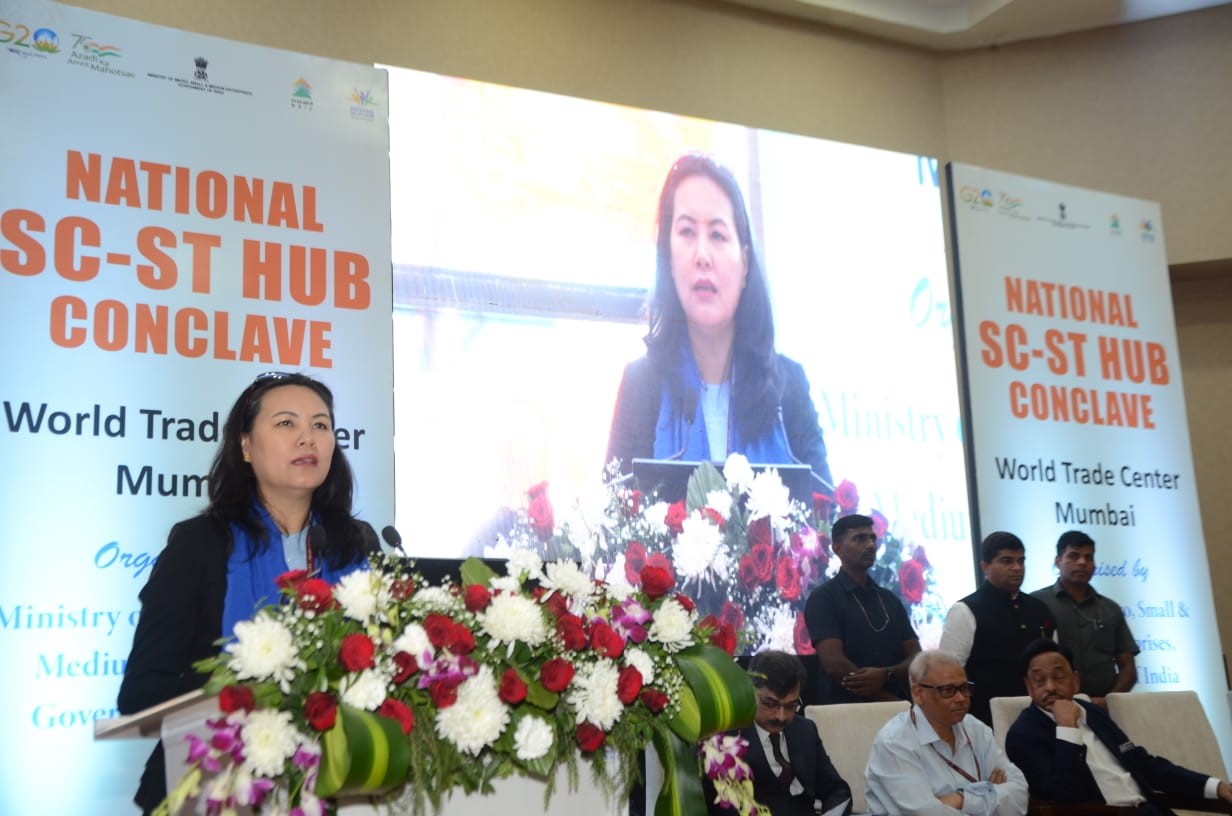 Additional Development Commissioner, MSME, Ishita Ganguli Tripathy said that MSMEs are spread pan India across sectors. More than 1.36 crore MSMEs are registered on UDYAM portal. The government has taken various policy initiatives in response to stakeholder feedback. The government changed definition of MSMEs; UDYAM portal has been launched for greater ease in registering MSMEs; coordinated and converging response between centre and states is being given. Procurement from women-owned and SC/ST-owned enterprises receive special encouragement. List of products reserved for SC and ST categories is being revised. Annual guarantee fee under Credit Guarantee Scheme has been almost halved. Citing these examples, the Additional Development Commissioner said that it is very rational to expect that the government will take many more steps to facilitate SC and ST entrepreneurs and to strengthen the MSME ecosystem further.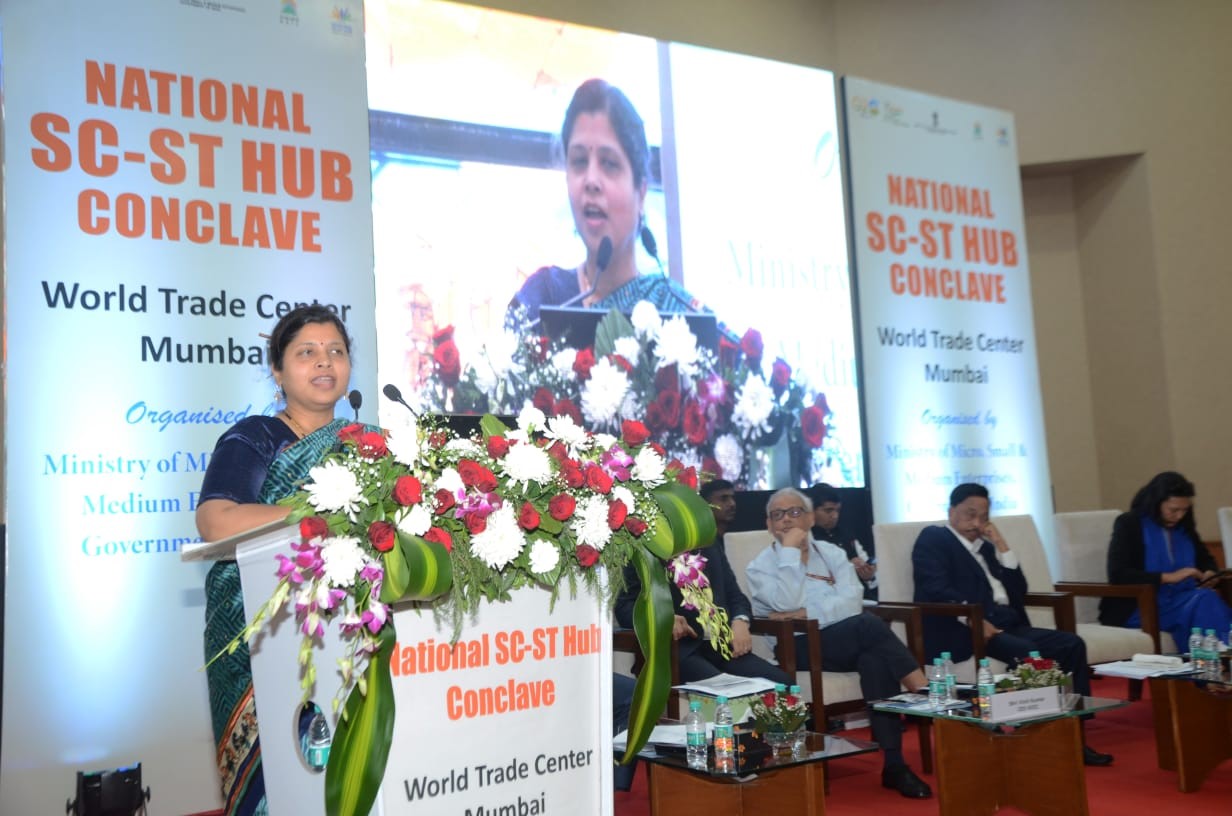 CEO, KVIC, Vinit Kumar said that there are specific allocations for SC and ST communities in implementation of various schemes of KVIC. The Commission provides credit support and various other kinds of assistance through schemes such as Prime Minister's Employment Generation Programme, for the benefit of SC and ST communities. The CEO exhorted all entrepreneurs to avail benefits provided under the schemes of the government.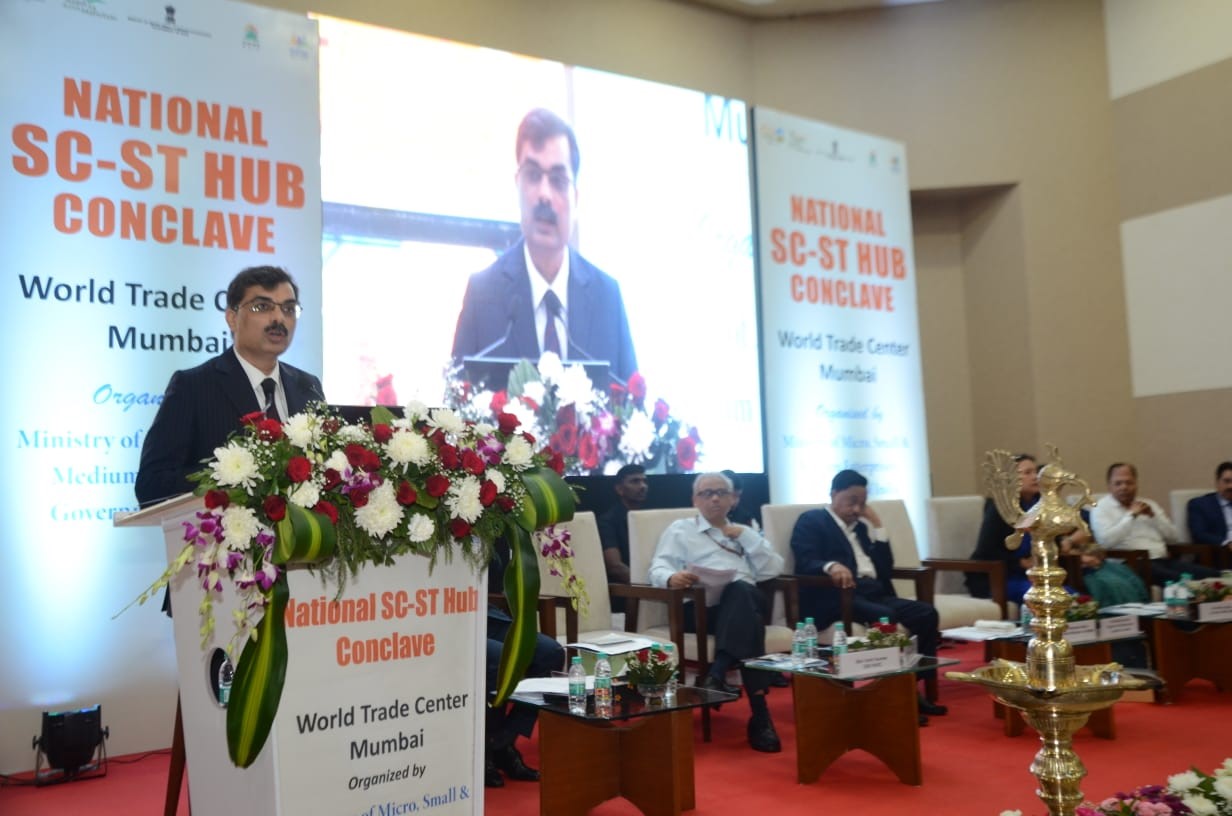 Chairperson, Indian Chamber of Commerce of Affirmative Action, Sunil Zode; National President, Dailt Indian Chamber of Commerce & Industry, Ravi Kumar Narra; MD, Maharashtra Small Scale Industries Development Corporation Ltd., Government of Maharashtra; Commissioner, Social Welfare, Govt. of Maharashtra; and other officers of the MSME Ministry, Development Commissioner; CMD, NSIC; Coir Board and various other stakeholders involved in the services to the sector were also present for the inaugural session, apart from SC ST entrepreneurs.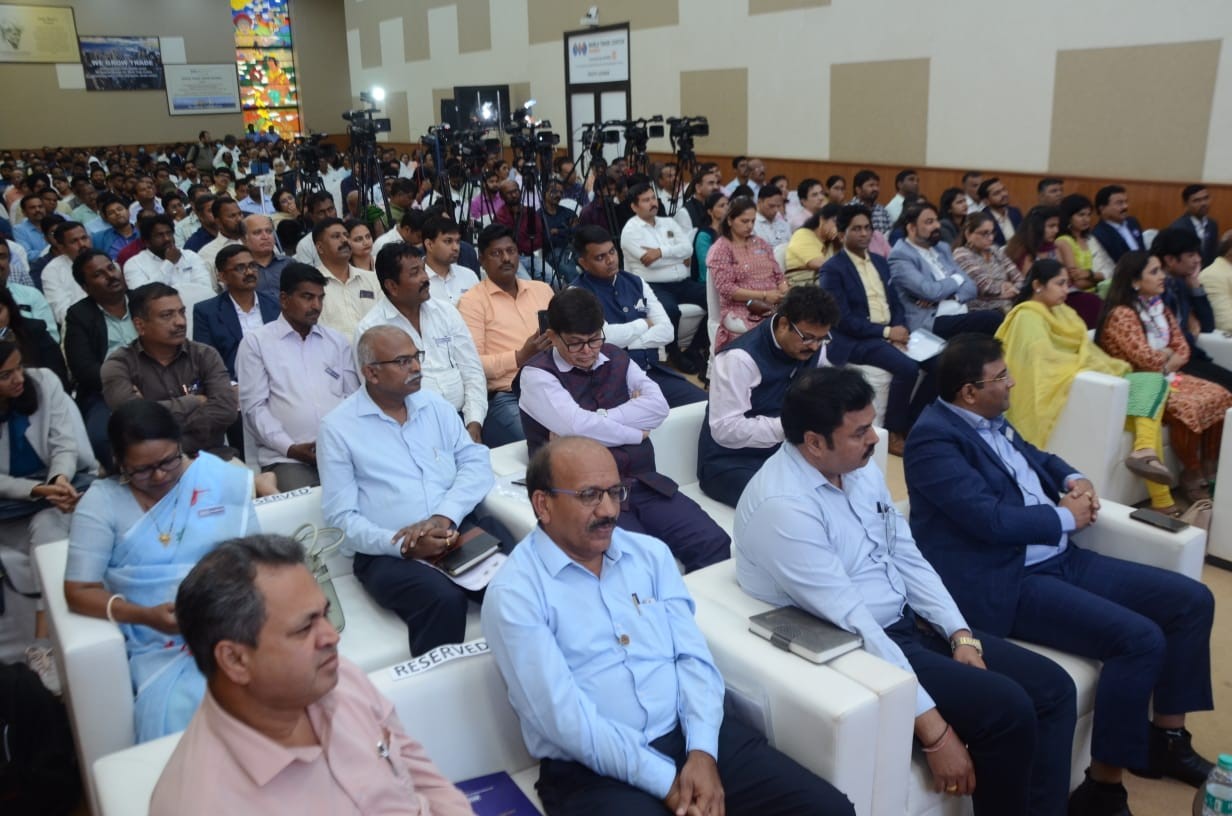 The MSME sector consists of more than 6 crore units and employs more than 11 crore people, thus being the sector next only to agriculture in providing the largest employment. The sector contributes significantly to economic growth with nearly 30% of contribution to GDP and more than 45% contribution to overall exports from India. The Government is consistently working to empower MSMEs for sustainable growth and to facilitate them to compete better in the global value chain.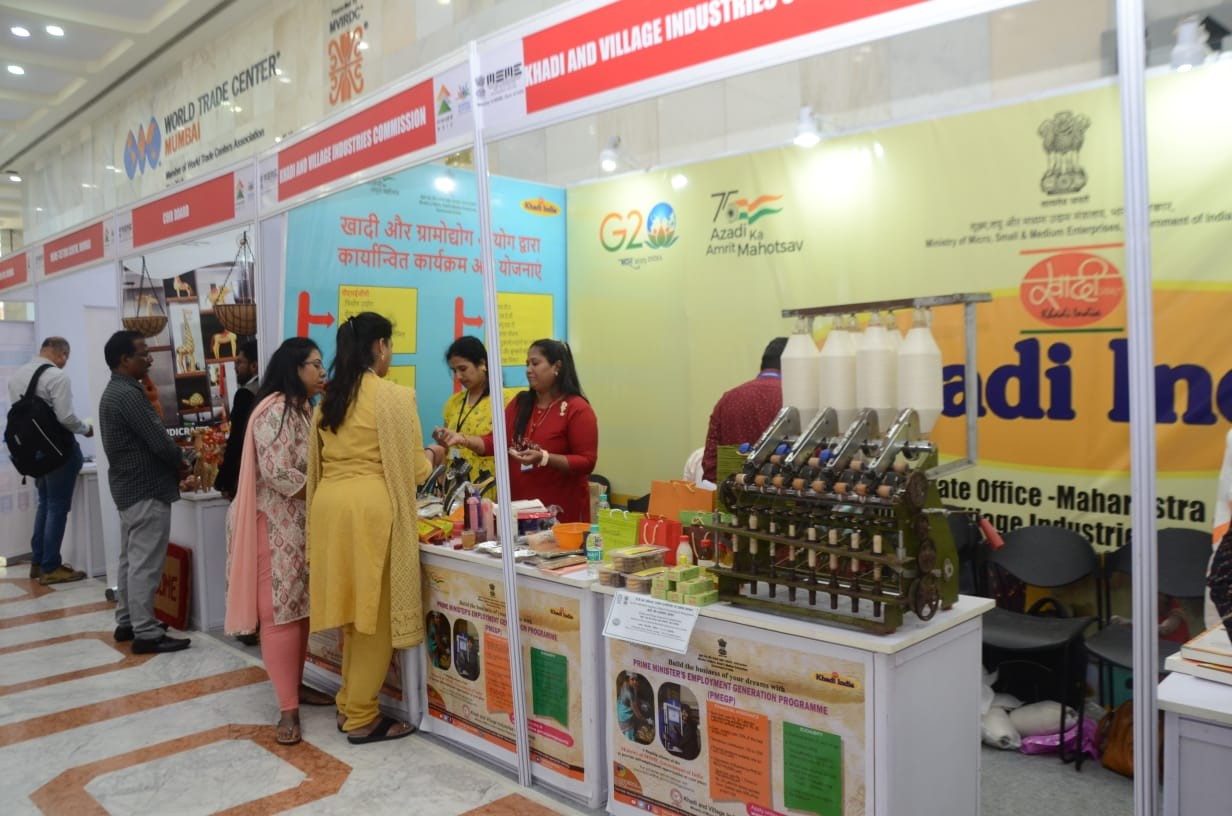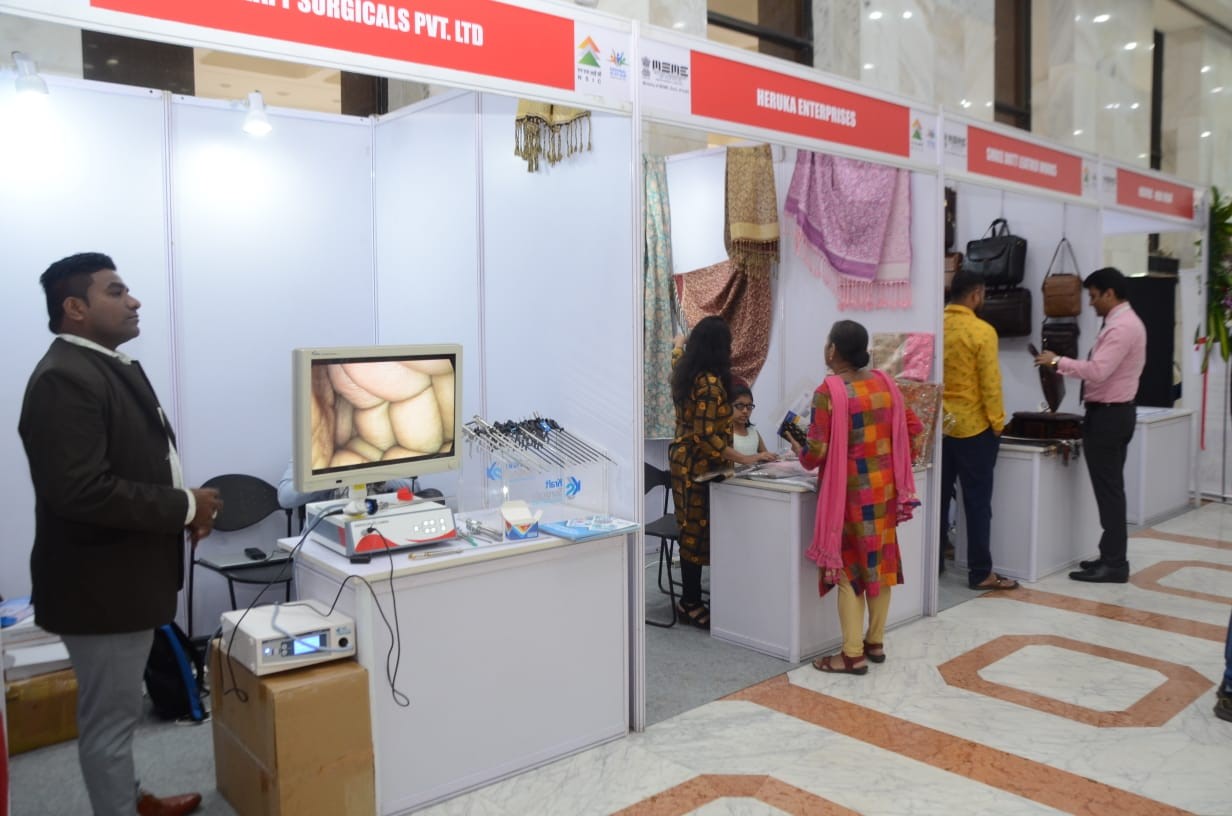 National SC – ST Hub
Out of more than 1.35 lakh SMEs registered on the Udyam portal as of today, around 25 lakh are from Maharashtra alone. Out of this 25 lakh, the number of SC/ST entrepreneurs is very small. The National SC ST Hub has been launched to address this and promote entrepreneurship among SC/ST community, for which various steps have been taken.
National SC ST Hub is being implemented by the Union Ministry of MSME to provide professional support to SC-ST entrepreneurs and thus promote inclusive growth. The Hub supports entrepreneurs of the SC and ST communities in capacity building, market linkages, finance facilitation and tender bid participation.
Under the Special Credit Linked Capital Subsidy Scheme, all the SC-ST MSEs of manufacturing as well as service sector are eligible for 25% subsidy, with ceiling of Rs. 25 lakh, for procurement of Plant & Machinery and equipment through institutional credit.
To encourage SC/ST enterprises for availing marketing support for their development and growth, various marketing support schemes have been synergized to form Special Marketing Assistance Scheme (SMAS). Under the above scheme, marketing support is provided to the SC/ST enterprises for enhancement of competitiveness and marketability of their products through National SC-ST Hub by supporting them in participation in international and domestic fairs, exhibitions, by conducting Vendor Development Programmes, seminars and awareness campaigns.
NSIC registers Micro & small Enterprises (MSEs) under Single Point Registration scheme (SPRS) for participation in Government Purchases. The units registered under Single Point Registration Scheme of NSIC are eligible to get the benefits under Public Procurement Policy for Micro & Small Enterprises (MSEs) Order 2012. These benefits include issue of tender free of cost, exemption from payment of Earnest Money Deposit, purchase preference to MSEs and others.
Check out the website of the Hub here: https://www.scsthub.in/ to know more about the schemes, programs and how they serve SC/ST entrepreneurs.
* * *
PIB MUMBAI | Dheep / Sonal / Darshana
Follow us on social media:
@PIBMumbai
/PIBMumbai
/pibmumbai
pibmumbai@gmail.com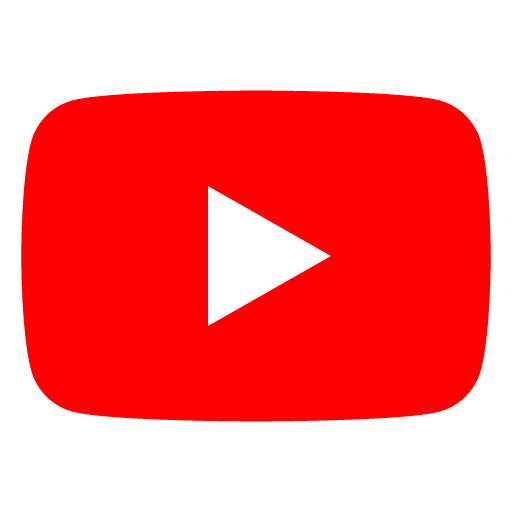 /PIBMumbai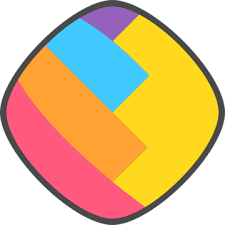 /pibmumbai