Bollywood, Cricket and Politics are three favourite topics of every Indian, we want to have good leaders and parties but forget to practice what we preach.
Rajneeti ki Pathshala is an initiative started by Mr. Ajay Pandey which is a team of people who believe that Politics should be taken seriously. He says that "It is important for all the citizens to know how the political and administrative system works. There are not many ways through which an interested candidate can obtain information about Indian politics and administration. Hence, we at RKP aim to educate the citizens about politics and bring about a revolution. We believe that educated citizens would make our society a better place to live in. We conduct workshops and sessions to educate people and explain to them the reason why politics is so important. We truly believe in this initiative and hope that it will be a successful endeavour."
Continuing his mission of recognizing achievers from various fields, the Rajneeti Ki Paathsala team, not only felicitated various women achievers, but also held a seminar on the topic "Women in Politics".

And when names like Advocate Abha Singh, Socialite Nisha Jamvwal and Dr. Naavnidhi.K.Wadhwa come together at the same platform. One can expect a flow of thoughts and ideas that can change enlighten anybody.
Amongst the awardees were names like "Ms. Seema Negi", "Ms. Savita Pande" , "Ms. Aarti Notiyal" etc,
These ladies have defied all obstacles and have stood proudly against all odds and made a mark in their respective fields.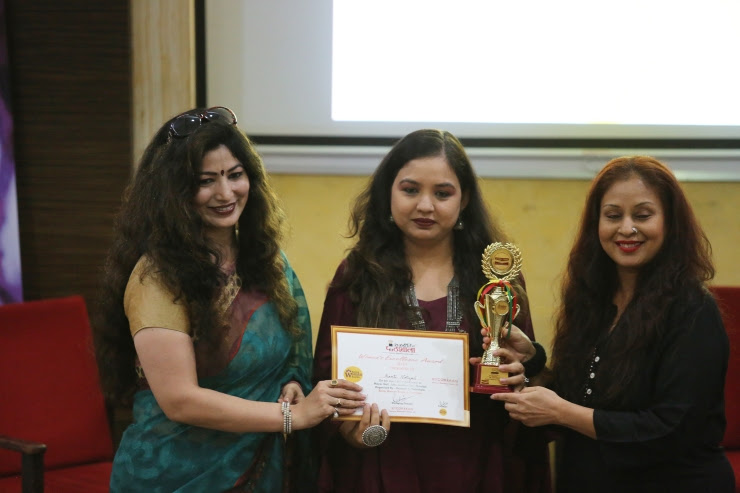 Rajneeti Ki Pathshala (School of Politics ) has been started to take the initiative for taking Indian politics at another level and empower it by putting moral and ethical values in it. The main objective of the school is to create awareness amongst the youth about the basic rights and duties given in the constitution of India. They want to make the Indian masses aware of the existing social and political state of affair. They help citizens understand and accept those noble elements of the politics, on the basis of which great leaders had created the nation and the constitution. They want to sow the seeds of knowledge and consciousness in public and fiercely support the principles of inexplicable honesty and integrity in all political activities. They are committed to recognise the system and to change the negative image of politics in the modern public opinion and make aware of the power of an honest democratic order. They are committed to bringing awareness amongst the citizens, that they can apply these political principles based on honesty and integrity, in different aspects of their lives. They encourage active participation of the youth; focus on public welfare, bracing the elements of constitutional principles and politics, so that we can prepare future leaders for our country. The basics of observing, learning and leading are rooted in our primary efforts. They firmly believe that the political education and understanding, constitutional integrity and honesty can bring a positive change in our country.

#BlogchatterA2Z